[Updated: Jun 2017]
A while ago, we aggregated our favorite marketing blogs in 25 Marketing Blogs You Should Be Following. It was rather popular, getting over 1,000 shares. So we thought we'd do the same for Ecommerce Blogs, too.
Here we go:
1. A Better Lemonade Stand – Practical Ecommerce Advice
ABLS is run by Richard Lazazzera. Richard used to do content for Shopify, and he's building an ecommerce brand from scratch (Finch Goods Co), and documenting the entire process. He's reporting his revenue and the outcome of his marketing efforts, and the whole endeavor is just a great story worth following.
2. eCommerceFuel – Build a Store, Change Your Life
Run by Andrew Youderian and Laura Serrino, eCommerceFuel provides you with a lot of insight and easy to understand guides for getting started with ecommerce.  They also notably run a private, vetted forum for store owners and ecommerce professionals.
3. Ecommerce Platforms – Reviews, News & Comparisons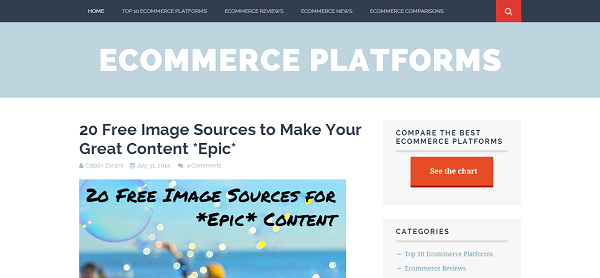 Ecommerce Platforms has all of the content you'd expect from a quality ecommerce blog, but their crowning glory is without a doubt their comprehensive, side-by-side comparison of 10 ecommerce platforms across 9 variables. Epic.
4. KISSmetrics – Analytics, Marketing & Testing
KISSmetrics runs a very analytics driven blog, and they have a pretty substantial ecommerce section well worth checking out.
5. Drew Sanocki – Growth Hacks For Ecommerce Executives
Drew Sanocki doesn't post everyday, but when he does, it's very thorough content that's definitely worth your time. He interviewed over 30+ retail experts to ask them about the biggest opportunities in ecommerce right now, which we loved so much that we simply had to make an infographic out of it.
6. Get Elastic – #1 Subscribed Ecommerce Blog
Managed by Linda Bustos, Get Elastic is a no-brainer: It's an Ad Age Power 150 ranked blog, was named the #1 Ecommerce Blog by PostRank, and was named one of the 15 entrepreneur blogs worth reading by the Wall Street Journal.
7. Shopify – Ecommerce Marketing Blog
Shopify's blog is quite a rallying point for ecommerce agents and professionals- there are often interesting discussions in the comments. Also, they have arguably the best Dropshipping guide in existence.
(RELATED: Interested in setting up a referral program for your Shopify store? Check out our new referral program setup guide for Shopify here.)
8. Bigcommerce – Ecommerce, Marketing & Selling Online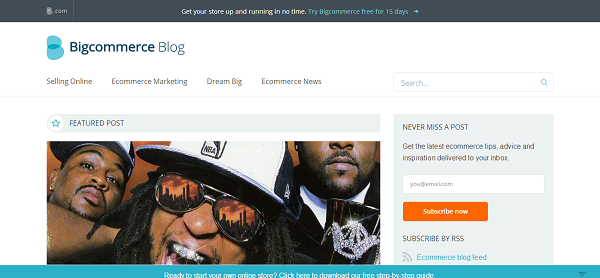 As one of the larger ecommerce service providers around, Bigcommerce's ecommerce blog is definitely worth reading. A nice mix of interesting case studies and inspirational posts.
(RELATED: Interested in setting up a referral program for your BigCommerce store? Check out the setup guide here.)
9. HubSpot – Inbound How-To & Etail Therapy
HubSpot are the masters of inbound marketing- they effectively coined and popularized the term. They have a lovely library of ecommerce-related information, and it's quite a pleasure to navigate and read.
10. Volusion – Online Business & Ecommerce Blog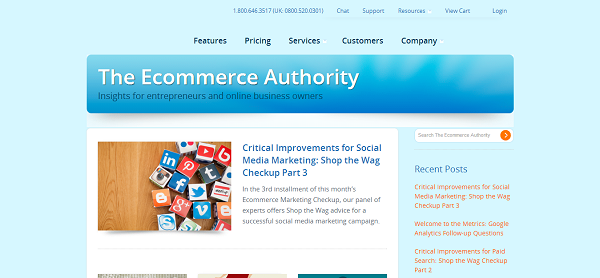 Volusion's ecommerce blog, The Ecommerce Authority, includes webinars and even predictions of their own– Volusion predicts 9% online growth for small-to-medium businesses this coming holiday season.
11. Groove – Creative Marketing, Design & Development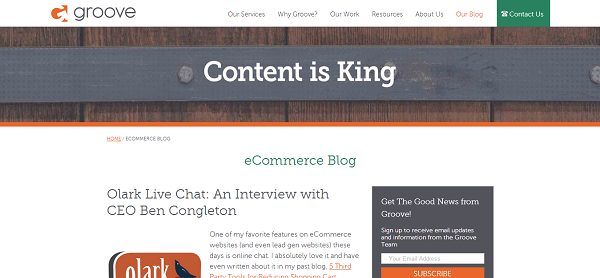 Groove offers professional marketing solutions for businesses who need that extra push. Their ecommerce blog features live chats with CEOs, as well as content that's both entertaining (with relevant pop culture references) and informative.
12. E-Commerce Times – E-Business Means Business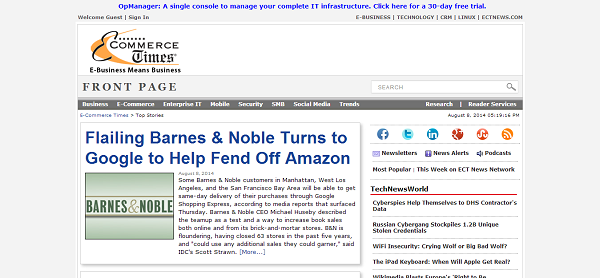 Frequently updated by industry experts and professionals, E-Commerce Times give you all the latest insight and happenings in the world of technological giants, and how they're progressing alongside their ecommerce journey. Very professional, corporate vibe.
13. Internet Retailer – Industry Strategies for Online Merchants
InternetRetailer.com has a classy and highly-technical vibe to it. We especially love how they have an entire segment dedicated to "Charts + Data". Cool, clinical and full of data.
14. Practical Ecommerce – Insights for Online Merchants
Practical Ecommerce is one of the older players around, clocking in at a hefty 9 years, during which they must've hosted hundreds of webinars. The tone is straightforward, down-to-earth. An asset.
15. Bootstrapping Ecommerce – Bootstrap Your Ecommerce Business To Success
Bootstrapping Ecommerce is a blog by Shabbir Nooruddin. His bootstrapping focus provides a great jumping-off point for individuals starting new businesses from scratch.
ADD_THIS_TEXT